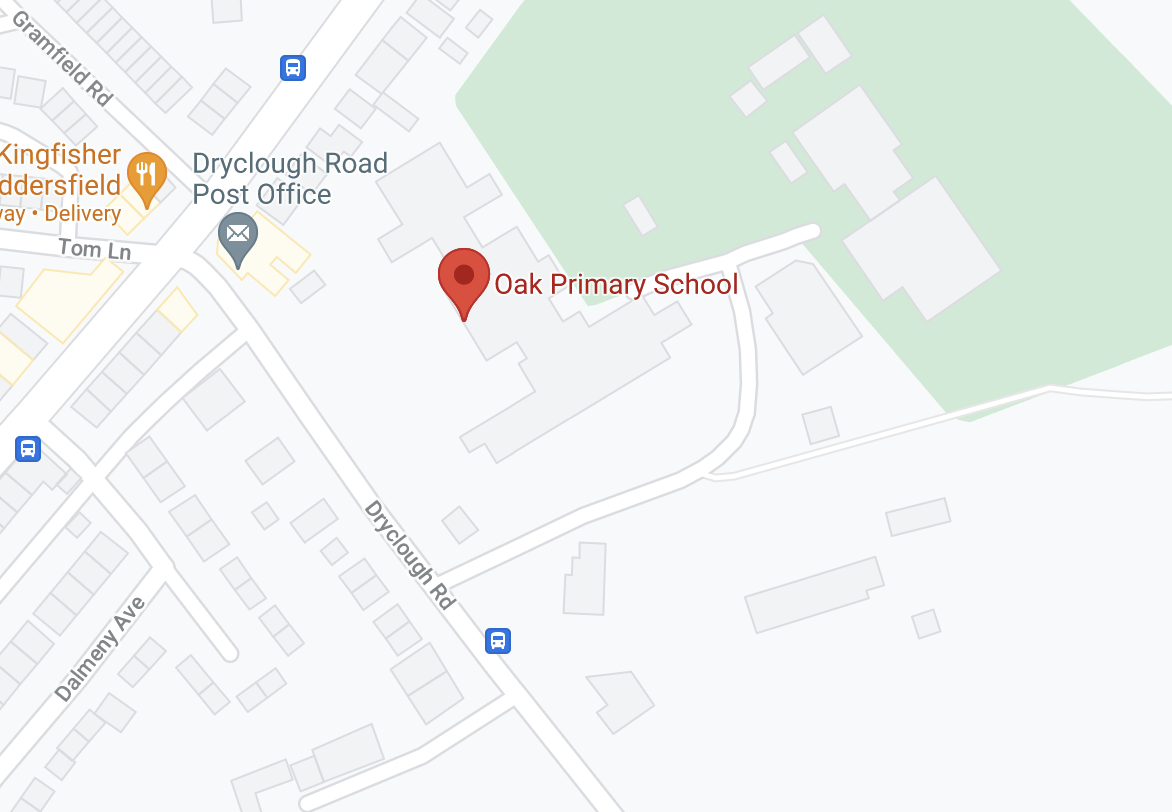 Oak Primary CE (VC) Primary School
Dryclough Road, Crosland Moor
Huddersfield
HD4 5HX
E: office@oakprimary.co.uk
T: 01484 977211
KS2 Building – Top building
KS1 Building – Bottom building
Nursery – First building on the right as you come down the drive
Head Teacher: David Bendall
Deputy Head Teacher: Sarah Wilson
Assistant Head Teacher: Anna Hackett
Assistant Head Teacher: Rachel Crawford
SENDCO: Robert Townsend; Amanda Pilling
Pastoral Well-Being Team Leader: Rachel Topham
All staff members may be contacted at the school phone number or email address.
Office hours:
EYFS / Key Stage 1: 8.00am – 4.00pm
Key Stage 2: 8.00am – 4.00pm
Receptionists: Michelle Rodley; Amanda Daley
Please send any urgent queries through to: urgent.oakprimary@kirkleeseducation.uk

VISITING
Please contact the Office in advance by phone to schedule a visit.
Parking – Please park in the visitor bays in the KS2 carpark (clearly marked at the front).
All visitors must register at reception in KS2 in the first instance (even if intending to visit EYFS or KS1). You will be directed further from there.
Please Note: There is no vehicular access [entry or exit] between 8:35-8:55 am & 3:00-3:30 pm to ensure the safety of all visitors, parents, children and staff at our school. Visitors arriving during these times will not be allowed down the drive.